There is nothing quite like seeing your photos professionally printed in in a high-quality p
hoto album that you design in minutes.
ScanMyPhotos.com
online photo service completes and re
turns your photo albums the same business day. Our Irvine, Calif. retail photo center and scanning headquarters hosts banks of fun and super-easy to use Kodak photo kiosks where you make your own photo albums and much more.


What is a photo book?
A photo book is the next evolution of the photo album using your digital photos brought to you by ScanMyPhotos.com. Using very simple software on the ScanMyPhotos.com website, anyone can create a beautiful coffee-tablestyle book of personal memories for just $26.50 per book. Each book is 10 double-sided pages (total of 20 individual pages) an
d a cover page with an image that shows through the front of the hard cover. Choose from a variety of page templates to display your images with or without text. All orders are completed and mailed back, or ready for pickup at our southern California photo center the same business day.
NOTE: This is not the Photo Index Book. For information about the Photo Index Book, please click here.
How is it different than the photo index book?
The photo book is designed by you through ScanMyPhotos.com using our templates to create a memory book of an event or special occasion. They are great for gifts or as a way to tell a story with your photos. The photo index book is designed to help you organize your photos by creating a thumbnail image of your photo along with the file name to create an easy way to catalog your photo memories. Learn more about the photo index book.

How to order

Even more ways you can use photo books
Many people are creating impressive and treasured family history photo books at ScanMyPhotos.com, online and at our southern California-based headquarter and retail photo center [same location since 1990]. They gather photographic material and prints from across the country and the world. The format, q
uality and condition of these vary enormously in the amount of care and effort in putting these together. If you plan to use a lot of old prints, slides or negatives, you will need the right scanner for your needs. Or you can use a scanning service, like ScanMyPhotos.com which will save you a lot of time.
If you are about to renovate, remodel or decorate your home, use photobooks to tell the story. Do a before-and-after series on facing pages. Learn how to place a tripod for identical positioning. For interior shots, lower the viewing height, and point the camera level to avoid those converging doorways and walls. Include pictures of yourself and others working on the renovation, as part of the story.
Need a last minute gift? How about a simple photobook? Just make sure the book is one the recipient will enjoy receiving and will value, not just politely keep in a drawer and bring out when you visit them.
If you take a lot of good photographs for a family wedding, then this can make for a wonderful photo book. And you can add in other pictures of the happy couple as they first met, and on early dates, as part of the story. You can determine the style and quality that will allow you to make copies for the closest family members and friends. If funds are tight, maybe each person who wants one could offer to pay for their own, much as people do when they order from the photographer.

Sharing the news and pictures of a new baby can be done with a little photo book. It does not have to be a huge production or expensive – there are many simple and budget-priced books that can be chosen from at ScanMyPhotos.com.
A wonderful and caring approach is to create a tribute or memory book for a loved one with dementia or Alzheimer's. Here are a few tips... Caption and group the pictures to make sense for them. For example,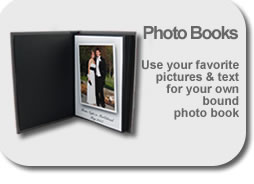 someone with dementia is likely to be prompted by the inscription they once wrote on the back of a photo, even if it is cryptic to others. Be careful adding your own interpretations. But do add in names of others in the pictures and their relationships to your loved one. Maybe some added explanation and facts.
This can help you and the caregivers go through the book over and over again with your loved one, and for it to be a fresh experience every time..
It's important for children need to see photos of themselves and their parents, and images of their grandparents at younger ages. They get a much better sense of their own identity through seeing their place in the larger family.
What better way to do this than give them their own family history book loaded with characters and stories. Pictures with captions, and more detailed stories they will grow into as they learn to read. They will be able to share this with their friends and classmates. Keep the separate set of digital originals on file, so that if a book is lost or damaged, you can easily have another made up from the same images.
So, with the range of books, styles, quality, formats and services available to you, whether online or at your local camera store, you can take advantage of this and create wonderful bound books, for whatever purpose you need.
More info, visit ScanMyPhotos.com and visit us on Twitter - Twitter.com/ScanMyPhotos